Rhea Miller is a social artist, follower of the heart–of the passionate intensity, of her own Deep Song. Most recently she was featured as a https://www.youtube.com/watch?v=4fZw9gh6WjM&t=8s. She authored the book Cloudhand, Clenched Fist: Chaos, Crisis, and the Emergence of Community. She has international peacekeeping experience in Israel & Palestine, Mexico, Japan, and the U.S., and extensive community organizing in this country.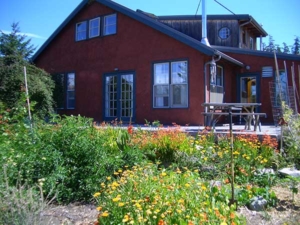 Rhea is the community liaison for Lopez Community Land Trust (LCLT ) and consultant for community land trusts.  LCLT was featured in the online publication by the Capital Institute: THE FIELD GUIDE TO INVESTING IN A REGENERATIVE ECONOMY. Rhea is featured in the Whidbey Institute's Thriving Communities Conference 2015 on "Shelter" video.
Rhea served for over 10 years as an elected local official in San Juan County, WA. She gained a national reputation for her leadership in the first successful jetski ban by a local jurisdiction. She was interviewed for her leadership on resource protection on "Good Morning America Sunday" and "CBS Sunday Morning." She served two terms on the federally appointed San Juan Islands National Monument Advisory Committee, and previously served as the Governor's appointee to the Puget Sound Water Quality Council and the Long Term Oil Spill Risk Management Panel. An engaging speaker, Rhea was asked to keynote freshman orientation at Guilford College on her book Cloudhand, Clenched Fist shortly after its publication.
She is an adopted member of the Pakauwaka family of the Waitaha, first people of New Zealand, and has ceremonial experience with the Nahuatl people of Mexico. She completed the Yoga Development Course at Yasodhara Ashram in British Columbia, and has a Masters of Divinity in Feminist Liberation Theology from the Episcopal Divinity School, Cambridge, MA. Rhea is trained to teach social artistry by the Jean Houston Foundation.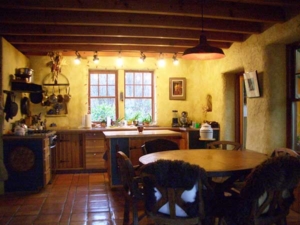 Rhea lives on Lopez Island, WA, in a straw bale home, built by her partner, with a waste water garden, rainwater catchment, composting toilets, and peace gardens full of vegetables. She loves her island living and home which she shares with her partner Sandy of 34 years. Their home has been the host of a Sunday evening service for about 25 years. Rhea "opens the space" and offers guitar and harmonium accompaniment for singing and chanting. Together they welcome guests from all over the world and share wholesome meals with all those who sit at their table.
Publications
Unleashing the Power of Community, TEDx: http://tedxtalks.ted.com/video/When-we-change-the-way-we-look: search%3ARhea Miller
Cloudhand, Clenched Fist: Chaos, Crisis and the Emergence of Community, LuraMedia, San Diego, 1996
"Witnessing in Israel/Palestine," Witness, v. 75, Dec. 1992
"A Peace Camp that Worked," Fellowship, v.50, n.1, Jan/Feb. 1984
Education
Master of Divinity, Episcopal Divinity School, Cambridge, MA 1992
B.A. "With Distinction," Nebraska Wesleyan, Lincoln, NB 1972
Further Study
Training for Trainers certification, Social Artistry, Colquitt, GA 2014
Yoga Development Course and teacher certification, 2008, Yasodhara Ashram, Kooteney Bay, BC
Center for Ecoliteracy, Sustainability and Education, 2 workshops, Feb. and March 2007, Petaluma, CA
Residence with first peoples of New Zealand, the "Waitaha," 4 months, June-Nov. 2005
Workshop/retreat on "Tipu Ake Leadership Model," Te Whaiti Marae, North Island, NZ2003
"Leadership for the Commons" collaborative consultation, Whidbey Institute, Feb. 2005, Feb. 2006
Berkana Institute with Margaret Wheatley, Sundance, 3 day workshop 1994
Studied in Mexico, Instituto Allende, San Miguel De Allende, GTO, Mexico 1977 quarter